Stainless steel bottle opener Product parameter:
| | |
| --- | --- |
| Item Name | Stainless steel bottle opener |
| Material | Stainless Steel |
| Processes | Metal Stamping+Polishing+Diping vinyl sleeve |
| Logo | sublimation, silkscreen printed, carving and laser logo etc. |
| Available Types | blank opener and opener with custom logo |
| Size | 12.5*3*0.18cm, accept custom. |
| Application places | bar, home, outdoor etc. |
What is stainless steel bottle opener
Traditional bottle openers are mainly represented by plastic manual bottle openers. The shortcomings of this bottle opener are obvious:
1. Strenuous;
2. Not suitable for ladies and children;
3. Foreign officials are not beautiful;
yiyixing stainless steel multi-function corkscrew, this generation of corkscrews began to have diversified functions, easy to use and labor-saving, for example, a knife appeared in the stainless steel corkscrew, which played a role in cutting tin foil.
The metal bottle opener began to use the principle of leverage to achieve the effect of convenience and effort.

The breakthrough of this generation of corkscrew lies in the emergence of the prototype of the third generation of pneumatic and electric corkscrews, laying the foundation for the third generation of pneumatic and electric corkscrews.
The advantages of yiyixing stainless steel bottle opener are also obvious. Firstly, it gets rid of the laborious shortcomings of traditional open-closers, and can be used for a long time. The stainless steel multifunctional bottle opener is difficult to damage during use; the metal bottle opener uses some physical Principle, although the product is bulky and clumsy. However, pneumatic and electric bottle openers are technically immature and unsightly in appearance.
Stainless steel bottle opener Uses
Beer bottle opener is a time-saving and labor-saving tool for opening beer. Just point the head of the bottle opener to the bottle cap and lift it up with a little force, and the bottle cap will fall off. It is not only convenient to carry with you, but also easy to operate.
Beer bottle opener is mainly composed of a handle and long (short) feet. It works far away with the help of leverage, which makes it easy to pry open the beer cap. Now the beer bottle opener style is also very chic, hanging on the key to carry, with no different from decorations.
Beer bottle opener uses the principle of physics, with the help of the strength of our human body, but still need to remind: in the use of Beer Opener, we must pay attention to safety, to prevent some human accidents.
When opening the bottle cap, the face must be far away from the position of the bottle cap. The force of the bottle opener will make the bottle cap pop up, which is easy to cause the bottle cap to bounce and hurt our skin. It is also necessary to avoid the phenomenon of excessive hand strength and beer bottle cracking. Therefore, it is safe to use the bottle opener and drink beer happily.
Drink beer to enjoy that kind of pleasure, to drive away the hot and dry feeling of summer, it is better to drink cold beer.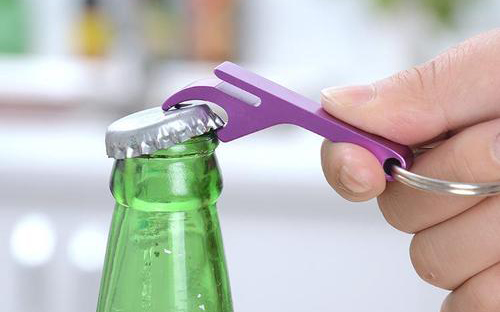 How to buy Stainless steel bottle opener:
Yixing (Hong Kong) Industrial Co., Ltd. is a professional, high-quality Stainless steel bottle opener manufacturing plant with advanced and professional production lines and testing equipment.
Focus on the design and production of Stainless steel bottle opener, and have established long-term business partnerships with many well-known domestic and foreign brands. Based on 12 years of experience in the production of PVC zippers, our products are highly praised and recognized by customers in the fields of clothing, handbags and home decorations.
The main products are customized Stainless steel bottle opener, PVC zippers, lanyard printing, lanyard keychain, fabric wristband, textile key ring, luggage strap, camera belt, ID card holder, retractable badge holder, etc.
At the same time, it also includes various zinc alloy metal hardware accessories for clothing and handbags, such as J hooks, metal hooks, rotatable snao hooks, D-rings, rivets, metal insert buckles, etc.;
New molds for customized logos are also welcome. All products have passed the SGS test, and quality is the soul of an enterprise, so far no complaints about product quality have been received. This is why so many big brands choose Yixing.
Stainless steel bottle opener FAQ:
1. What's your best price for stainless steel bottle opener?
A: the price depends on the order quantity.
2.What's the delivery time?
A:sample order will be delivered at 3-5 workdays,large order is 7-10 days after confirming the details

3.What's your packing?
A:Our usual packing for stainless steel bottle opener is each one in a opp bag, then 100 pcs packed in box

4.How about oem?
A: customized color and size is ok, we can do your logo and design for the printing, usually need to charge for the mold fee for small orders

5.What about the warranty?
A: We are very confident in our products, each clear custom speed opener was tested ok here,and we pack them very well, so usually you will receive your order in good condition. But to avoid any subsequent trouble regarding quality issue, we suggest that you check the clear bar blade bottle opener once you receive them,and let us know the details if there is any damaged ones, so that we can deal with it accordingly.

6.Does your factory audit?
Yes,our factory is audited by TüV Rheinland .